Hamlets and towns:
Baletti, Baudini, Brioni, Castes, Chiosso inf., Chios sosup., Clari, Dao, Goria Abelli, Goria inf., Goria sup., Goria Ugo, Serre, Grange Garneri, Villar, Grange Laurenti, Grange Viani, Grangette, Isaia, Lischia, Morelli, Martini, Maifalia, Molini Abelli, Molini Allioni, Reinaud, Rossenchie.

Bordering Towns:
Casteldelfino, Sampeyre, Stroppo, Prazzo, Beilino.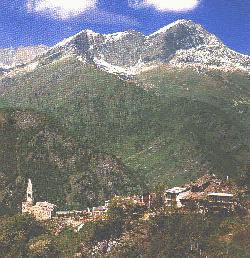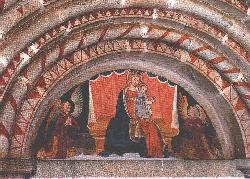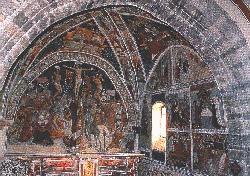 HANS CLEMER
Elva's painter master
A 'fiammingo's adventures
in Piemonte

History
Elva is placed far from the principal communication ways of Maira valley, in a very lonely place. The first traces of its existence are of Roman memory: it was found in Elva a Roman stone, now a part of the parish church facade.
The word "Elva" is perhaps referred to the "Gens Helva" (Helva people); another possible origin is from "Galli Helvi", a tribe of Gauls who dwelled in the pre-Alps of Provence.
In 1200 Elva was already under the control of Saluzzo marquisade; thanks to its position it passed nearly undamaged through the wars and besieges which hit the valley.
There're three roads leading to Elva: the first is the one of the "orrido" or of the valley, the second follows the trace of old trails from Stroppo to S.Giovanni's pass. The third one, only usable during the good season, goes from Varaita valley through Sanpeire pass.
The aspect of the various hamlets is still medieval. In Serre, the chief town, there're the parish church and the "House of the meridian".

Art and architecture in Elva.
The parish church, built in XV century in roman style, is dedicated to S.Maria Assunta and is famous because of its frescos, probably made by Hans Clemer, "il Maestro d'Elva".
The simbology of the decorations of this church is often obscure, even because the stone is somewhere damaged by the passing of time.
The frescos represent Christ's youth and Mary's life. Remarkable the scene of the crucifixion on the bottom wall.

Economy.
Elva's inhabitants emigrated at the end of XIX Century looking for work opportunities, going to the plain or to France. The activity that caracterised Elva was the one of "Cavič", people who collected and sell hair.
Country women's hair was bought and turned into expensive wigs for the French or English Court.