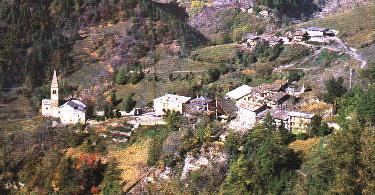 We start at "Borgata Serre", the chief town, at 1637 m. From here, passing in front of the actual guest-quarters "La Fernisolo", we take the asphalted road and in 1O min. we reach "borgata Goria - Mattalia", at 1661 m. This hamlet is the most meridional of a group of five, altogheter named "Goria". Mattalia is made of nine houses: the two biggest, on the right before and after the public fountain, show two stone pillars with round and square sections. The town is spread on a sunny slope, not too steep. Passing by the fountain and following the old path for 5 minutes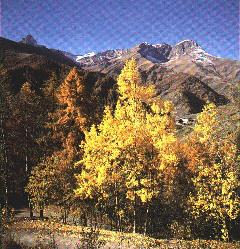 we get to another hamlet belonging to "Goria", named "Isaia", at 17O3 m. Its name, like "Mattalia", has an hebraic origin. This hamlet is heavily degraded. On a trail that was anciently the most important communication way between Elva and other communities of Maira valley, we proceed to a pine forest. This part of the path passes throught a wide larch-wood. In 15 minutes we arrive at a fountain named "DELL' ARSISA " at 1778 m; here we can fill our bottles with fresh and pure water, before continuing our ascent to "S.Giovanni"'s church at 1872 m., 15-minute far. This place is really amazing, it rewards us of all the walking, the sight can spread all over the valley, with Elva and the mountains on a side and the plain on the other. In the middle of the clearing there's a small chapel, for the worship of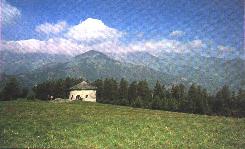 S.Giovanni, where a Mass is said the last Sunday of June. We continue our journey and in ten minutes, near to the "costa Cavallina", at 2000 m, we reach the provincial road coming from Stroppo. Following it in Elva direction for about 5 minutes, passed the crossroad for Sampeyre pass, we see an asphalted road on the right; here we can stop our journey, coming back to Elva Serra on the provincial road. Otherwise we can go on for 15 minutes, on a quite flat and scenic trail, and we arrive at "Chiotti", an hamlet at 1864 m of altitude. This place is made of wide meadows overhanging the three most elevated hamlets of Goria: "Superiore", "di Mezzo" and "Ugo". Here again we can have at a glance the image of the whole Elva valley, with a sweet sensation of peace inspiring from the quiet landscape. From here,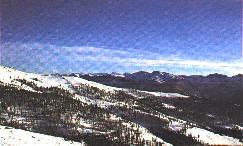 in 20 minutes, we reach the base of "Ripalta" rocks, after descending to a fountain and then climbing on the trail up to 1900 m of height; from this point on the landscape becomes steeper and wilder, we follow a trail cutting a steep meadow over "Morelli" hamlet. This place owes its name to a notary coming from "Acceglio"; this man worked in Elva in 1700 and lived here for a while. 35 minutes more of walk and we reach "Martini" hamlet at 1726 m. "Martini" comes from the worship of "S.Martino", it's quite a big hamlet and it's placed in a sunny spot, rounded of meadows and fields. On a chimney-pot there's still the drawing of a meridian. If we want, it's possible to stop the adventure here,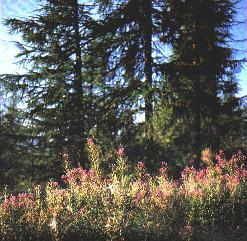 coming back to Serre. If we want to continue, going along the communal road and turning right, in 10 minutes we're at a cross-road leading on the right to a new non-paved road and, on the left, to "Baudini", "Grangette" and "Meira". The first of these hamlets owes its name to Baudino's family, while the other two tell with their names that originally they were made of 'grange' (small mountain houses) inhabited from time to time by shepards. If we turn right on the non-paved road and we walk for an hour, we arrive at "Grangie" at 1830 m. The trail to get here is initially ascending and then quite flat, traversing an enormous gorge called "Barsaie": quite often it's possible to see partridges in their natural habitat. After "Barsaie" there's a broad steep meadow called "Chiampines". Going on we pass through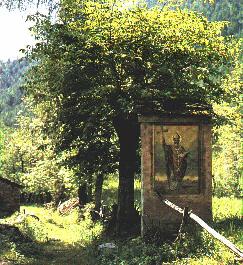 the first hamlet of the place, "Grange Viani", then "Grange Laurenti" and finally "Grange Garneri". The bell in "Laurenti" hamlet shows a writing dating 1664, reminding the settling of men coming from the "Delfinato" of Calvinist religion, it's to say heretics escaping persecution. Through "Ortili" wood we reach "Chiosso superiore", it takes us an hour to get there, at 1670 m. Over this hamlet we find a place called "Baletti", our path passes there. The name "Chiosso" comes from "Chiotto" or "Closso", meaning a flat and grassy place.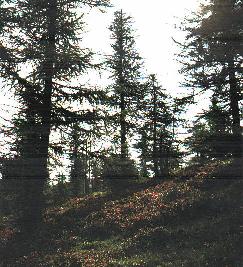 There's even a church dedicated to S. Anna in which every year a Mass is said during S. Anna's celebration. We go down to "Chiosso inferiore" in 15 minutes. 5 minutes more and we arrive at the "Alberg" bridge, allowing the crossing of the homonymous torrent. There's still on the left a building once used as a mill, functioning until 1963. High on the left we catch a glimpse to "Castes". This hamlet is placed on the ancient trail to "Grange" hamlets. Even at the bridge we can stop our travel, reaching the chief town by the asphalted road and crossing "Rossenchie", "Dao", "Clari", "Reinaud" and "Villar". Not far from "Reinaud" hamlet there's "S.Bernardo" chapel,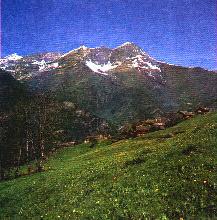 probably the first parish in Elva. But if we continue on the trail and we walk for 20 minutes from the "Alberg" bridge, nearing the torrent, we arrive at "Molini Allioni" at 1437 m. From "mulino" (mill) comes the name of this hamlet, the same for the lower "Molini Abelli"; these mills were used for cereals, hemp, flax...even here we find a chapel, dedicated to the "Madonna Consolata". Another 40 minutes and, taking the trail on the right in front of the church, we arrive at "Brione". The slope becomes steeper and narrower and leads to a panoramic spot, the "Rocca Castello", at 1577 m. Looking from here it's possible to see all the journey made until this moment.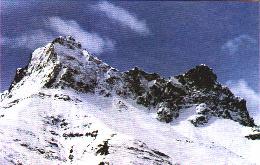 We're at the beginning of a wide meadow, originally a cultivated field, where once grew even the corn (really uncommon on the mountains!): this was possible thanks to the mild climate of this place. The water for the cultivations come from a canal which took it from Chiosso torrent, on the opposite valley. It's possible to reach this meadow on another trail, starting from Chiosso and taking the marked path through "Tavanet" wood to "Orsieres" rock, at 1996 m., in an hour. From here we continue for "Rocca Castello" and then "Brione", in another hour. We continue our trip on a first flat and then descending trail, taking us to "Lischia" at 1359 m, in 15 minutes. This hamlet is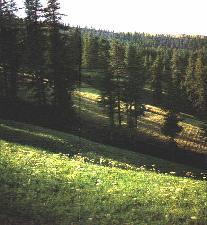 on a steep valley behind the previous one; it was so steep that inhabitants were compelled to terrace the fields. We follow a newly-built road and in 25 min. we arrive at the provincial road, at 1400 m. From here, on the left we arrive at the chief town, on the right we immediately find the panel of the path that, in 1 hour and 15 min, leads us to "Molinas" bridge. At the bridge we turn left and, in 5 minutes, we arrive at the starting point, Serre. In this hamlet there're the town-hall and the parish church , which is alone a good reason to visit Elva, seen its historical and artistic value.