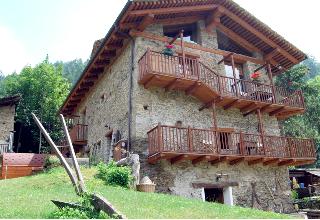 BED & BREAKFAST
AL BRIEIS
Ristorante

Borgata Brieis - Marmora.


---

In borgata BRIEIS di Marmora , la baita di GIAN e MAPI, finita di ristrutturare di recente, dal 2010 , e' un B&B composto da n° 3 camere, di cui 2 suite ,vi offre un' accoglienza di qualità con rispetto per il VS. soggiorno immersi nella natura, in una baita tipica occitana, dell' alta Valle Maira.Il restauro conservativo, molto curato nei particolari a base legno e pietra, vi permette di vivere rilassanti atmosfere in ambienti di altri tempi . I gestori,durante il soggiorno, vi sapranno indicare le molteplici opportunità che offre la valle, per un soggiorno vissuto nel più completo relax, con un pizzico di cura per la persona, con una autentica sauna finlandese rigorosamente ecologica con stufe a legna, a vs. disposizione. Un breakfast preparato da Maria Pia , con la passione che la contraddistingue … per le cose buone!
oppure attività dinamica di alta montagna.
Trekking, Mountain bike, Alpinismo, Sci alpinismo, Sci di fondo e camminata con ciaspole.
Solo relax con sauna e tisane ………. Buon soggiorno davvero !!!!!!!!!! da Gian e Mapi

---

In township BRIEIS of Marmora, the cabin GIAN and MAPI, renovation completed recently, in 2010, and 'a B & B consists of No. 3 rooms including 2 suites, there is a' reception quality with respect to the VS . stay immersed in nature, in a typical hut Occitan, of 'Valley High Maira.Il restoration, much attention to details made of wood and stone, relaxing atmosphere you can live in environments of the past. Managers, during your stay, you will indicate the many opportunities offered by the valley, lived for a stay in complete relaxation, with a bit of care for the person with a genuine Finnish sauna with strictly ecological wood stoves, at your . provision. A breakfast prepared by Maria Pia, with a passion that distinguishes it ... for good!
or dynamic activity of the high mountains.
Trekking, Mountain biking, Mountaineering, Ski mountaineering
Cross-country skiing and walking with snowshoes. ... Just relax with a sauna and herbal tea ... ... ....